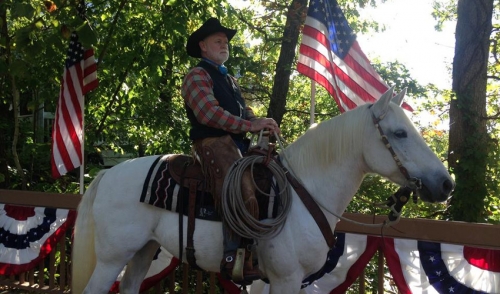 Blue Bonnet Spearman (named after Robert Duvall's character in Open Range) comes from the Adobe Town HMA in southwestern Wyoming.  Processed through Rock Springs Corrals, Blue was adopted by Fred in 2005.
Blue has been an ambassador for the Wild Horse Program since that time. He is well known by thousands of children through his demonstrations and shows at SILVER DOLLAR CITY in Branson, Missouri every fall (September and October) at the Salute to the Great American Cowboy Festival.
Blue has worked with the Black Stallion Literacy Program at the University of Arkansas, is a hippo therapy horse and given hundreds of children their first horse ride.
From visiting residents at nursing homes, rounding up cattle on the Bell Ranch in New Mexico and visiting elementary schools to conducting clinics with adopters and potential adopters, Blue has been my best friend, confidant and companion. He is the reason I currently serve, as Chairman, on the BLM National Wild Horse and Burro Advisory Board. He has proven that Mustangs are versatile, trustworthy, athletic and are an American Legend, a living, breathing part of our history.  
Blue and I would like to thank Powell Feeds for their support over the last 6 years.  They have always been there for Blue, all my other mustangs and I with feed and other necessary items required when you own and train horses.
"Mustangs have taught me more about horses and myself than anything else I have ever done.......patience, prayer, body language, understanding, not taking things personal, creative thinking, different perspectives.......if more people understood the true reward and could grasp the real meaning, no mustang would ever want for a home........." by Fred Woehl